WHAT IS IELTS
The International English Language Testing System (IELTS) is designed to help you work, study or migrate to a country where English is the native language. This includes countries such as Australia, Canada, New Zealand, the UK and USA.
Your ability to listen, read, write and speak in English will be assessed during the test. IELTS is graded on a scale of 1-9.  
IELTS is jointly owned by, IDP: IELTS Australia, Cambridge English and the British Council.
TEST FORMAT
In IELTS, there are four papers: Listening, Reading, Writing and Speaking. There are two different IELTS modules: Academic and General Training. The Speaking and Listening tests are the same in both modules, but the Reading and Writing tests are different.
Academic module
Choose this if you wish to study at undergraduate or postgraduate levels, or if you are seeking professional registration, e.g. doctors and nurses. 
General Training module
Choose this if you wish to migrate to an English-speaking country, (e.g. Australia, Canada, New Zealand, UK) or if you wish to train or study at below degree level.
WHAT'S IN THE EXAM?
| | | |
| --- | --- | --- |
| Paper | Content | Time |
| Listening | 40 questions | Approximately 30 minutes (plus 10 minutes' transfer time) |
| Reading | 40 questions | 60 minutes |
| Writing | 2 tasks | 60 minutes |
| Speaking | 3 parts | 11–14 minutes |
HOW TO REGISTER FOR AN IELTS EXAM
Registering for your IELTS test is quick and easy
Step 1 – Register for your IELTS test
You can register and pay online or download an application form to print, complete and submit to your chosen test centre.
You will need to provide a copy of your valid identity document. You will also need to present the same identity document on the day of your test.
Step 2 – Your IELTS test is booked
We will send you an email confirming the date and time of your test once your application is processed. Your Speaking test may be scheduled for a different day, and we will confirm that too.
PAYMENT
Test fee:
2022 test fee per person: €236
The test fee is non-refundable
Important:
Payment for an IELTS exam must be received by the test centre no later than 72 hours before your exam date, otherwise, it will not be possible to take the exam on that date.
You can register on our website and pay through iDEAL. 
Masterclass Academy of Languages; NL34 RABO 0149161387

Please state: 'IELTS for [your name], test date & telephone number'
Cash at Masterclass Academy of Languages
Note: It is currently not possible to pay with Pin.
To pay at Masterclass Academy of Languages and/or submit your passport copy after registering online, please visit us during office hours:
Monday – Thursday:        09:00 - 17.30
Friday:                            09:00 - 16:30
Important notice: 
All bank charges are the responsibility of the applicant.
It is not possible to issue invoices for payments, but you can print out a receipt of your payment in the Candidate Area (log in with your IELTS reference number and email here).
Masterclass Academy of Languages does not accept credit cards or use 'acceptgiro'.
Confirmation
You will receive an email after your payment has been processed. At least one week before the test date, you will receive an email with the location of your test venue and other test day information. If you cannot find this e-mail, please check your spam folder.
RESULTS
There is no pass or fail in IELTS. You are graded on your performance in the test, using scores from 1–9 for each part of the test: Listening, Reading, Writing and Speaking. Your results from the four parts then produce an overall score.
The unique 9-band scoring system measures performance in a consistent manner, wherever and whenever the test is taken. It is internationally recognised and understood.
The IELTS 9-band scale
Each band corresponds to a level of English competence. All parts of the test and the overall band score can be reported in whole and half bands, e.g. 6.5, 7.0, 7.5, 8.0.
| | |
| --- | --- |
| Band | Description |
| Band 9: Expert user | Has fully operational command of the language: appropriate, accurate and fluent with complete understanding. |
| Band 8: Very good user | Has fully operational command of the language with only occasional unsystematic inaccuracies and inappropriacies. Misunderstandings may occur in unfamiliar situations. Handles complex detailed argumentation well. |
| Band 7: Good user | Has operational command of the language, though with occasional inaccuracies, inappropriacies and misunderstandings in some situations. Generally handles complex language well and understands detailed reasoning. |
| Band 6: Competent user | Has generally effective command of the language despite some inaccuracies, inappropriacies and misunderstandings. Can use and understand fairly complex language, particularly in familiar situations. |
| Band 5: Modest user | Has partial command of the language, coping with overall meaning in most situations, though is likely to make many mistakes. Should be able to handle basic communication in own field. |
| Band 4: Limited user | Basic competence is limited to familiar situations. Has frequent problems in understanding and expression. Is not able to use complex language. |
| Band 3: Extremely limited user | Conveys and understands only general meaning in very familiar situations. Frequent breakdowns in communication occur. |
| Band 2: Intermittent user | No real communication is possible, except for the most basic information using isolated words or short formulae in familiar situations and to meet immediate needs. Has great difficulty understanding spoken and written English. |
| Band 1: Non-user | Essentially has no ability to use the language beyond possibly a few isolated words. |
| Band 0: Did not attempt the test | No assessable information provided. |
A half band score indicates a strong performance at a particular band level. For example, if you score an overall band score of 6.5, you have performed strongly within the Band 6 level.
RESITTING THE TEST
If you didn't get the IELTS score you wanted, you can apply to resit the test as soon as you feel ready. However, before applying for a resit you need to keep in mind that your score is unlikely to improve without a significant effort to improve your English.
We have put some handy sample test questions that can help you prepare IELTS resit. We also suggest you read up on how to prepare, as there may be some steps that you missed.
Get ready for your IELTS resit
Naturally, you may feel frustrated about not achieving your desired IELTS result, as well as nervous about resitting the test. However, with hard work and dedication, you can improve your IELTS score.
Before you resit the test, it is highly advisable to review strategies and tips to help you improve your English language skills.
CANCEL YOUR IELTS TEST
Delayed/too late?
If you are delayed on the test date, please phone Masterclass Academy of Languages immediately: +31 10 75 320 37. 
Ill on the test day?
If you are ill on the test date and wish to reschedule your test or request a refund, you need to provide appropriate medical evidence to support your request. Only written evidence will be accepted and this must be provided within 5 days after the test. Refunds will only be provided for serious illness. 
Cancel or reschedule?
It is not possible to cancel your test date without medical evidence within 5 weeks of the test date. Candidates who would like to change or cancel their test more than 5 weeks before the test date will be charged an administration fee of €50. Candidates can only change to a test date that is within 3 months of the original date. 
SPECIAL REQUIREMENTS
We will make every effort to make arrangements for test takers with accessibility requirements. In order to ensure that the language ability of all test takers is assessed fairly and objectively, IELTS provides a comprehensive service for test takers who have special requirements, including specific learning difficulties, hearing difficulties and visual difficulties, medical conditions or infant feeding.
If you require special arrangements to be made, e.g. extra time or a modified version of IELTS, you must give us six weeks' notice.
 
10 REASONS WHY IELTS CAN HELP YOU STUDY, WORK, OR LIVE OVERSEAS
1. IELTS is the world's favourite test of English for migration
More than 30 million IELTS tests have been taken since the test was first created in 1989.
2. IELTS is accepted by more countries than any other test of English
If you want to move abroad and need an English language test, IELTS is the only test that is accepted by these English-speaking immigration authorities: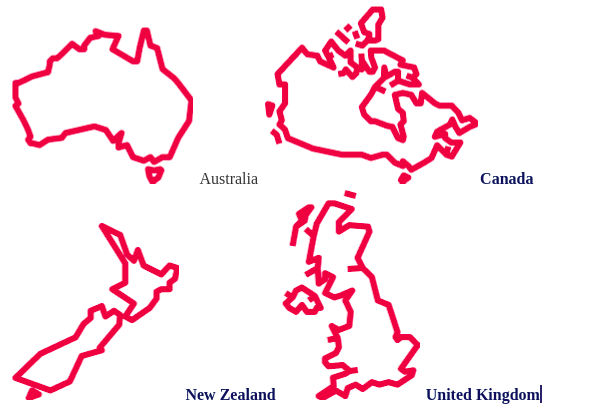 You do not need an IELTS test for a visa for the United States of America, but IELTS can still help you on your journey to the USA. Our test is accepted by more than 3,400 colleges and universities in the USA.
Choose the most widely accepted test of English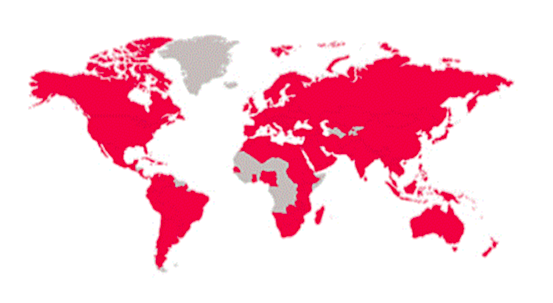 3. No other test of English is accepted by more universities, colleges, or academic institutions
IELTS is the #1 test of English for academic study.
Your IELTS results will be recognized and accepted by 11,000 institutions around the world. This means that wherever you want to study, it's likely IELTS can help.
No other test is accepted more than IELTS 
4. IELTS is the only test of English that is a global partnership
Our co-founders have almost 250 years' experience helping learners.
Cambridge English was founded in 1913 as part of the University of Cambridge in England. The tests you take with IELTS are based on more than 150 years of test design experience. Our teams help to ensure that IELTS prepares you for work or study in your new country.
IDP: IELTS Australia was founded in 1969. For more than 50 years IDP has been a leader in global education services helping universities and their students. IDP: IELTS Australia has been a co-owner of IELTS since 1989. 
The British Council is the United Kingdom's international organisation for culture and education. Founded as a charity in 1934 they have been working to make a positive contribution to the world for almost 90 years. 
IELTS USA is jointly owned by the partners and helps to guarantee that your IELTS test is recognized by thousands of universities and colleges across the USA.
5. We make it simple for you to prepare for an IELTS test
At Masterclass Academy of Languages we offer courses to help you learn English and prepare for the test.
6. IELTS questions are set by real people and marked by real people
We know that a test can be a stressful experience. Our examiners help you feel comfortable so that you can do as well as possible. You talk to real people in real life – that's why, with IELTS, your English is assessed by a real person not a computer. Our friendly examiners are highly trained and will hear you clearly, understand your accent, and give you the right marks. 
7. You can choose the right way to take an IELTS test
If using a computer is your preference, IELTS gives you what you need. Our on-computer tests are ready for you. 
8. IELTS tests are available where you are
You can take IELTS at least once every month in Rotterdam.
9. IELTS tests are designed to fit your future needs
If you are using your IELTS test to succeed in your studies, find an institution that accepts IELTS and choose the IELTS Academic test.
If you want an IELTS test to move abroad for work or visas, choose IELTS General Training, or find out about even more options for moving to the United Kingdom.
Our questions use relevant content and real-life conversations, designed to help you succeed, in work, study and general life.
10. With IELTS it's easy to get started
Contact us to get the best preparation for your test!
Check out our other courses:
Contact
Masterclass Academy of Languages BV 
Contact us:
Telephone: 0107532037
Email: info@masterclassenglish.com
Or visit us: 
Botersloot 9C (3rd floor)
Rotterdam 3011HE
Opening hours:
Monday to Thursday from 9:00 am to 8:00 pm
Friday from 9:00 am to 5:00 pm