Level test
Do the test and know the level you will start with
Start
Our teaching method and the Common European Framework
A framework is necessary for any learning programme because language learning is complex and so the learning of a language must be clearly organised. We use the Common European Framework to assess the non-native ability of our students in the foreign language they wish to learn and improve. This framework identifies 6 different levels of language ability: A1 (beginner), A2 (pre-intermediate), B1 (intermediate), B2 (upper-intermediate), C1 (advanced), C2 (Mastery).
Your ability in a foreign language is based on how you are able to understand and use its 'vocabulary' and a 'grammar': your skills in listening, reading, writing and speaking. Therefore, the framework we apply represents an assessment of your ability, or your language skills, as they correspond to the grammar and the vocabulary of the language you want to master. The more vocabulary and grammar you can understand when reading and listening, the higher your level; the more vocabulary and grammar you can use when writing and speaking, the higher your level as well.
Masterclass Academy of Languages offer courses at all levels and for different purposes. In order to advise which course will help you achieve your goals, we first assess your current level in the language you wish to improve. While your level of reading and writing is assessed with a multiple choice assessment either online or at our location, your listening and speaking skills are assessed in a short conversation with one of our expert training advisors by phone or in person. During this conversation we also establish your goals and advise on the type and the length of your training. Of course, this advice is based not only on your starting level but also on your wishes, your requirements and, most importantly—your goals.
Raising your level through training
Applying our unique and structured teaching method, we train you by first giving you 'input'. You will learn both vocabulary and grammar during the training sessions, learning new words, sayings, idioms and phrases. Then, by monitoring carefully how you use this new language in practice, we continously focus on the quality of your language production so we can offer you the necessary feedback while you activate the language, raise your awareness, improve your understanding and your overall ability and confidence. This cycle of giving you the necessary input and monitoring your output serves as the cornerstone of our teaching method.
Each group is small because it is important for your trainer to give you the individual feedback you need so you can reach your goals and the objectives of the course you are following.
Because C1 level represents the ability to be able to deal with a number of situations both accurately and appropriately, we advise that professionals who are working in an international context should strive to reach a minimum of C1 level in the Common European Framework.
At the end of every 10 weeks of training, we assess your level again and measure your progress so we can evaluate and recommend the next steps you should take so you can get closer to the minimum level that we advise: C1 level.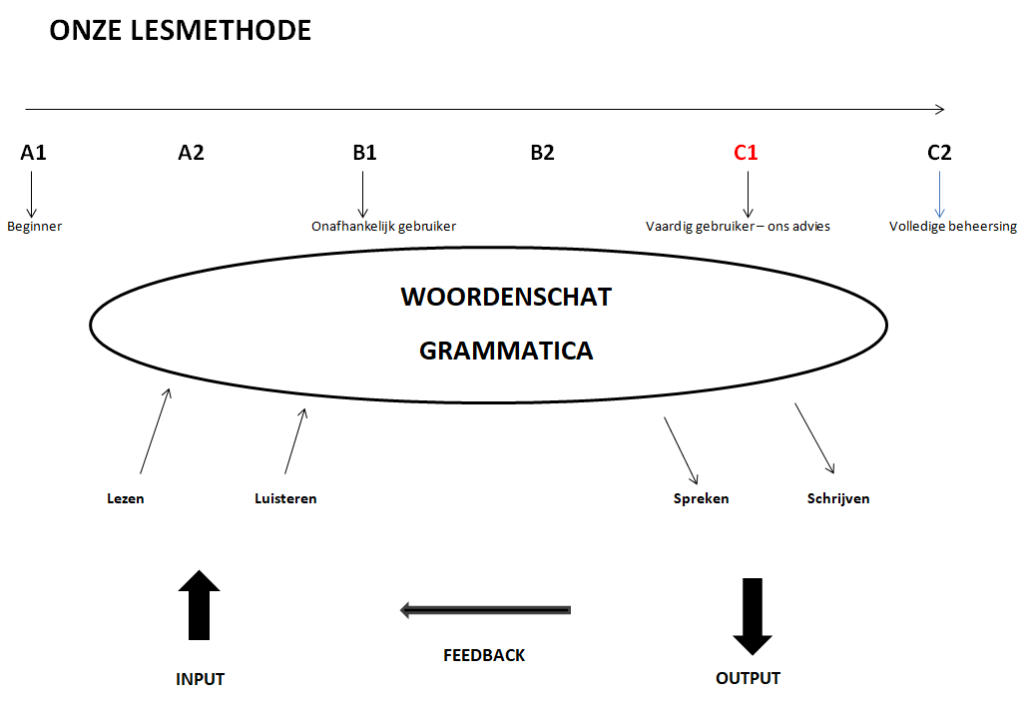 Contact us for more information
Contact
Masterclass Academy of Languages BV 
Contact us:
Telephone: 0107532037
Email: info@masterclassenglish.com
Or visit us: 
Botersloot 9C (3rd floor)
Rotterdam 3011HE
Opening hours:
Monday to Thursday from 9:00 am to 8:00 pm
Friday from 9:00 am to 5:00 pm